Back to List
News
August 2, 2022
Chen leads NYO2 with rousing energy at Carnegie Hall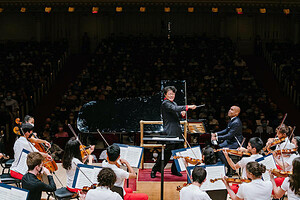 "Youthful enthusiasm apart, much of the concert's success and appeal was due to Chen's magnetic presence on the podium as much as the programming. The three works—Jessie Montgomery's Soul Force, George Gershwin's Concerto in F, and Sergei Rachmaninoff's Symphonic Dances—provided ample opportunity for entire sections to shine and soloists to strut their stuff. It was not only a laudable educational project, but highly enjoyable and a lot of fun.
...
Chen, who is Taiwanese-American, waded into geopolitical waters with the lightest of steps through the two encores which the orchestra performed. She introduced the first, An-un Huang's "Saibei Dance" (from his Saibei Suite No. 2) by explaining that although Huang's musical education was interrupted by the tumult of the Cultural Revolution,, the music he composed during that time that evokes a traditional harvest celebration and resounds with joy, not despair. Chen led an interpretation that was dizzying as a kaleidoscope of melody and color.
Bernstein's Overture to Candide, which followed, required no introduction. Chen took it at a clip, with the individual sections of the orchestra standing whenever they were featured, and in the case of the strings rising and falling with the shape of the melodies which they played. If high spirits had held sway in the earlier works, it ran wild in the Bernstein.
In the midst of the applause that ensured, Chen turned to the orchestra, not to begin another encore, but to cue them to join her in shouting "Thank you Carnegie Hall!" A sentiment shared by all present."