Back to List
Calendar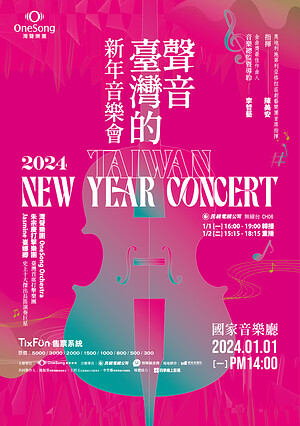 Debut with TAIWAN's One Song Orchestra
Place & Time
National Concert Hall
January 1, 2024
14:00
Program
演出者
Performer
音樂演出
灣聲樂團 One Song Orchestra
李哲藝|音樂總監暨導聆 Che-Yi LEE, Music Director
陳美安|指揮 Mei-Ann CHEN, Conductor
崔娜卿|長笛 Jasmine CHOI, Flute Soloist
朱宗慶打擊樂團|打擊 JU Percussion Group, Soloists
Taiwan New Year's Concert—Expand its Global Reach
Jointly organized by One Song Orchestra, the StanShih Foundation, and Formosa TV, the 2023 "Sounds of Taiwan—New Year's Concert" has hit its 5-year mark. The Concert opens up possibilities for citizens to hear the sounds of Taiwan in the form of classical music, and at the same time, presents the music to international audience so that the beauty of Taiwan becomes more visible.
The Concert highlights a diversity of sounds in Taiwan: including original works with Taiwanese elements created by specially invited Swiss composers, new works by Taiwanese composers, traditional Peking Opera, indigenous music, etc. The three colors emblematic of Taiwan used in the poster are Formosa red, blue, and gold. Elements associated with classical music such as the shape of a violin, musical notes, and staves are also incorporated. This modern visual design intends to leave a lasting brand impression when it is promoted overseas.
Music is one of the most accessible cultural aspects in people's lives. "Sounds of Taiwan" is performed by emerging Taiwanese artists, using classical music as the language of international communication, to perform works that belong to Taiwan. We believe it is not only a great opportunity to enhance musical literacy of the citizens, but also to create a sensational night for the world to enjoy the uniqueness of Taiwanese music.
I look forward to making "Sounds of Taiwan—New Year's Concert" from the East will continue to accumulate popularity and gain influence, and may one day be recognized as an Eastern counterpart of the Vienna New Year's Concert in the West, so that the "Sounds of Taiwan—Across the Globe" will become one of the most representative New Year's concerts in the world.
As the Chairman of the One Song Orchestra Fan Club, I am calling for more fans to join the Friends of One Song. Let us stand with the Orchestra as it strives to spread the music of Taiwan to a wider and global audience. Let us stay tuned to the Orchestra. It is my firm belief that more people will hear the sounds of Taiwan!
Stan Shih, Chairman of the One Song Orchestra Fan Club 2024.1.1
《臺灣的聲音 新年音樂會》即將邁向第六年

每一年增加的感動無法被取代
每一場演出記憶更無法復刻
謝謝大家與我們一年又一年的延續這項創新的傳統
也讓世界認識更多屬於臺灣的聲音
2024年,臺灣的聲音新年音樂會即將再次昇華由活耀於歐美、奧地利格拉茲交響樂團首席客座指揮的臺籍指揮家-陳美安老師帶領灣聲詮釋在地的音樂風貌
而灣聲也將首次與臺灣首席打擊樂團-朱宗慶打擊樂團
連袂演出經典再創的精彩作品《六六大順》以及翻轉讓人熱血沸騰、蠢蠢欲動的《絃舞Ⅰ》滲入擊樂的魔力
2021年新年音樂會因疫情無法順利登台的長笛巨星-崔娜卿Jasmine Choi
今年終於能再度與灣聲一同登台國家音樂廳演繹以瓊瑤老師的經典為基底創作而成的協奏曲《劇未了,情待續》
最後將在內心掙扎千萬次才精選而出的作品集錦幻化成中西合璧的交響樂在腦海中綻放瓊瑤的世界裡開啟全新的一年
2024/01/01(一) 14:00 國家音樂廳
邀請你和灣聲一起在新的一年、新的時刻
以臺灣的音樂、向世界發聲!
開啟充滿希望的新年
你,準備好了嗎?
購票請至「TixFun售票系統」:
https://tixfun.com/UTK0201_?PRODUCT_ID=Q0164UNF&kk=NEUeBPpm68Te6fNESkz5SSaDWSfxSrC4