Back to List
Calendar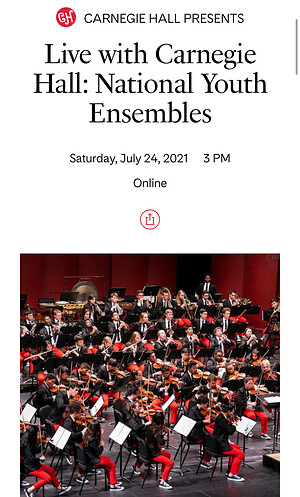 Carnegie Hall NYO2
Place & Time
Carnegie Hall Presents
Live with Carnegie Hall
New York
NY
USA
July 24, 2021
3pm Eastern Time
Program
Performers
National Youth Orchestra of the United States of America
Carlos Miguel Prieto, Conductor
NYO2
Mei-Ann Chen, Conductor
NYO Jazz
Sean Jones, Artistic Director, Bandleader, and Trumpet
Program
TCHAIKOVSKY Symphony No. 6, "Pathétique"
PRICE Ethiopia's Shadow in America
HINDEMITH Symphonic Metamorphosis after Themes by Carl Maria von Weber
The extraordinary young musicians of Carnegie Hall's national youth ensembles—the National Youth Orchestra of the United States of America (NYO-USA), NYO2, and NYO Jazz—represent the future of the country's orchestral and jazz traditions. After being unable to gather in the summer of 2020, these three ensembles convene this July at Purchase College outside New York City. Their three weeks of training and music making culminate in this streamed event. Tune in for a celebration of community and music's bright future as you get to know the remarkable performers that make up these ensembles.