Back to List
Calendar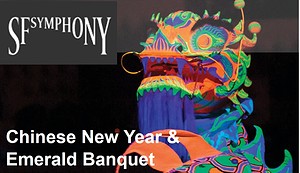 San Francisco Symphony
Place & Time
Davies Symphony Hall
San Francisco Symphony
CA
USA
February 20, 2021
5:00 PM
Program
Chinese New Year
and
Emerald Banquet
Sat, Feb 20, 2021 at 5:00 PM
Tickets go on sale Fri, July 10, 2020 at 10:00AM.
The Chinese New Year & Emerald Banquet is an elegant, colorful celebration of the Lunar New Year with the San Francisco Symphony. Drawing upon vibrant Asian traditions, past and present, guests enjoy the Festival Reception's host of activities followed by a performance of Eastern and Western repertoire by the San Francisco Symphony and notable guest artists.
Proceeds from Chinese New Year & Emerald Banquet benefit the San Francisco Symphony's community and education programs, which serve more than 75,000 students from Bay Area elementary, middle and high schools students each year
Continue the festivities after the concert by purchasing a ticket to the dramatic and exciting Banquet. Call the San Francisco Symphony Volunteer Council at 415.503.5500 for further details.
If you would like assistance purchasing tickets for patrons with disabilities, please call the box office at 415-864-6000.